By Lana Mason, Archivist
May 5, 2023
The performing art known as drag has a long and rich tradition. In early Western theatre, male actors always portrayed female characters due to prohibitions against women performing on stage. However, beginning in the 17th century, women began to be allowed on stage and so began to portray most female roles. However, men also continued to play some female roles, but began to take on a "much more comical tone, satirising female characteristics," when doing so.[1] The men who played these roles began to be known as female impersonators. Drag performance exploded in popularity during the early 20th century, and its success was led by the American female impersonator Julian Eltinge.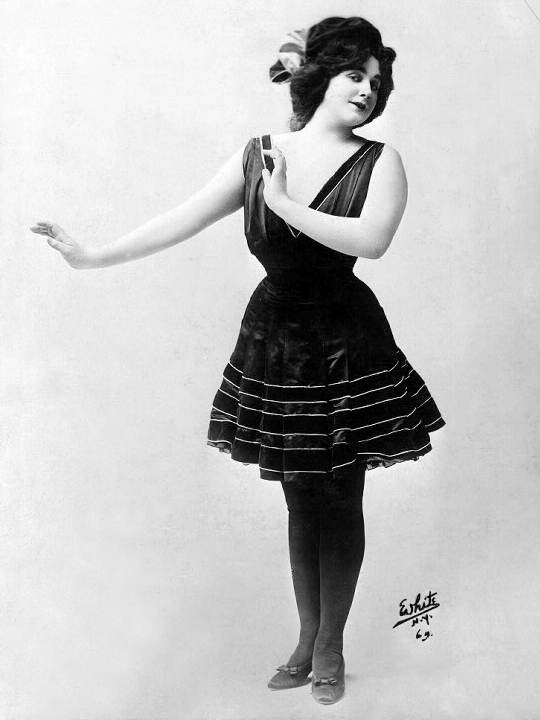 Julian Eltinge, born in 1881, was by far the most popular female impersonator of his era. He was known for his talented ability to capture the essence of feminine mannerisms. Eltinge honed this talent by performing in drag regularly as a teenager. His routine was to play a female character on stage—with unsuspecting viewers believing that he was a woman—and then would shock the audience at the end of the show by revealing himself to actually be a man. The genuineness of his feminine performance set him apart from other female impersonators and gained him significant popularity. Eltinge showcased his talents in vaudeville and made his debut on Broadway in 1904. He starred in several highly popular shows over the following years, including The Fascinating Widow and Cousin Lucy.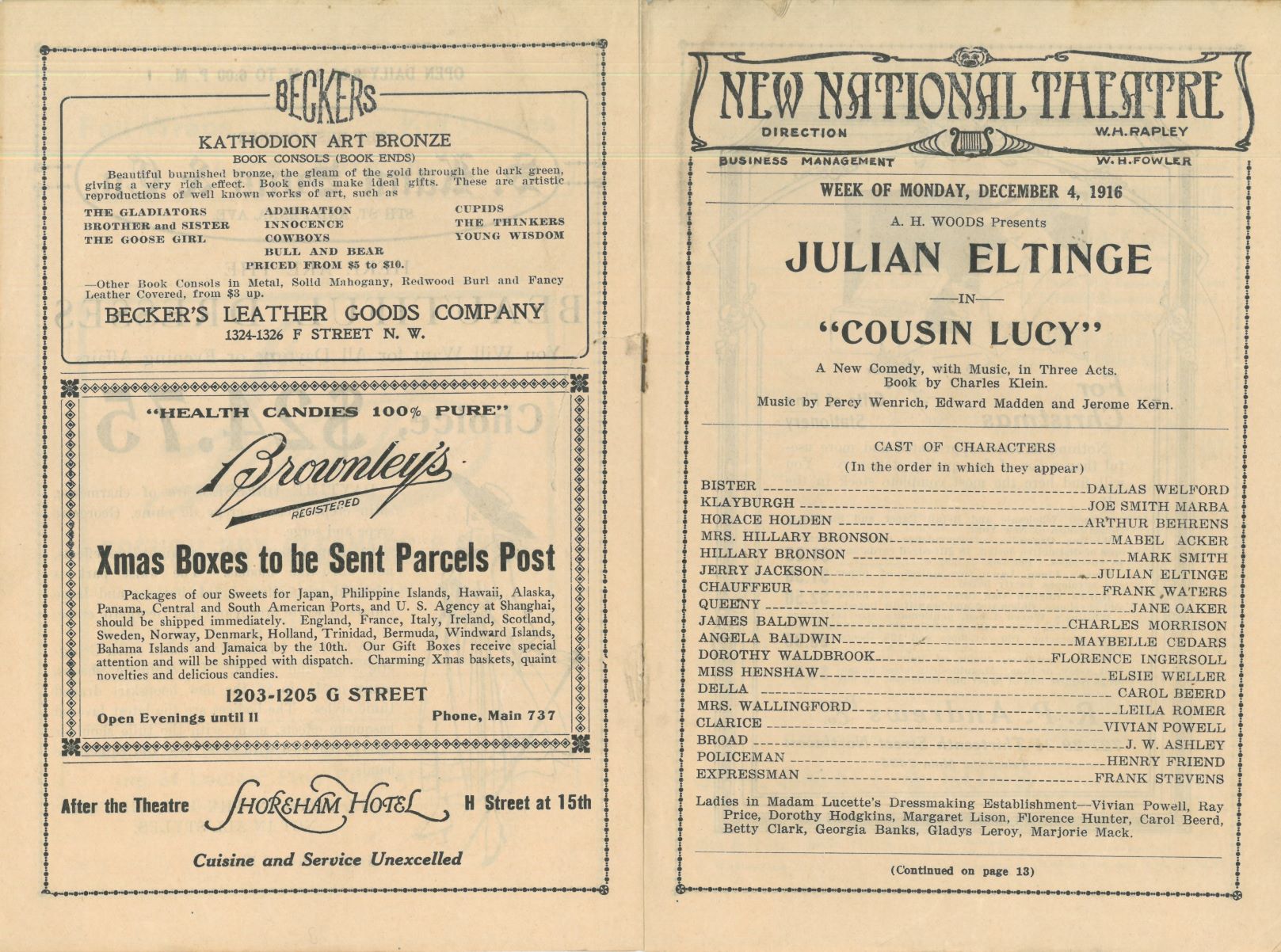 Eltinge first performed at The National Theatre in Washington, DC in January 1916, starring in the three-act musical comedy Cousin Lucy. As was common in his performances, Eltinge played both a male role—Jerry Jackson—and a female role—the titular cousin, Lucy Jackson. Though the production ran for only a week, it was a hit with Washington audiences. In their February 1, 1916 review of the production, The Washington Post eloquently described Eltinge's popularity; he had "a following as large and as enthusiastic as those loyal groups that pin their theatrical allegiance to the skirts of Maude Adams, Ethel Barrymore, or Billie Burke—as was conclusively proved at the National Theatre last night, where a large audience assembled to view the first Washington performance of 'Cousin Lucy.'"[2] The production was so successful that the show returned to The National in December of 1916 for another week-long run.
Following the success of Cousin Lucy and similar shows, Eltinge continued to charm audiences through the 1920s, both in vaudeville and as a star in numerous silent films. But by the early 1930s, vaudeville had mostly died out as a popular form of entertainment. Consequently, Eltinge shifted to performing in nightclubs rather than in theatres. However, he was unable to perform in drag as he always had due to new, widespread legal crackdowns on public crossdressing. [3] Despite the changing social and political attitudes toward the art he was once so beloved for, Eltinge remained committed to the stage. He continued to perform regularly until his death in 1941.
References:
Riley, Kirsten. "From Female Impersonation to Drag." Wellcome Collection, September 24, 2019. https://wellcomecollection.org/articles/XPDpbxAAAItBfFd8
"National—Julian Eltinge in 'Cousin Lucy.'" At the Washington Theatres. The Washington Post, February 1, 1916.
"Julian Eltinge, the World's Greatest Forgotten Female Impersonator." Back2Stonewall, May 20, 2022. http://www.back2stonewall.com/2022/05/gay-history-may-14-1883-worlds-greatest-female-impersonator-julian-eltinge.html