The Community Stage Connections program partners with organizations in the DC area to provide free performances and workshops to communities who face barriers to accessing the arts. We rely on the talents of an exceptional roster of performing and teaching artists, as well as several special partners, to facilitate our outreach. Thanks to the help of a generous donor that has been supporting this program throughout its tenure, our artists are paid an honorarium for their work.
Program Core Values:
We believe in the power of the performing arts as catalysts for human connection, so while Community Stage Connections performances may entertain, inspire, or educate, their primary purpose is to bring people together. Our CSC artists learn the names and stories of community members at our partner venues, and venues have artists return year after year to celebrate holidays and special occasions.
We strive to present the highest caliber performing arts experiences as possible. Our roster of performing artists include award-winning musicians, puppeteers, and teaching artists who represent excellence in their field across a broad variety of art forms.
We center the programming needs and interests of the community members at the venues we partner with. This means that we design performing arts experiences in collaboration with venue representatives and members of our artist roster.
---
---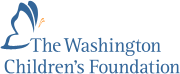 Community Stage Connections is made possible in part by the generous support of
The Washington Children's Foundation.