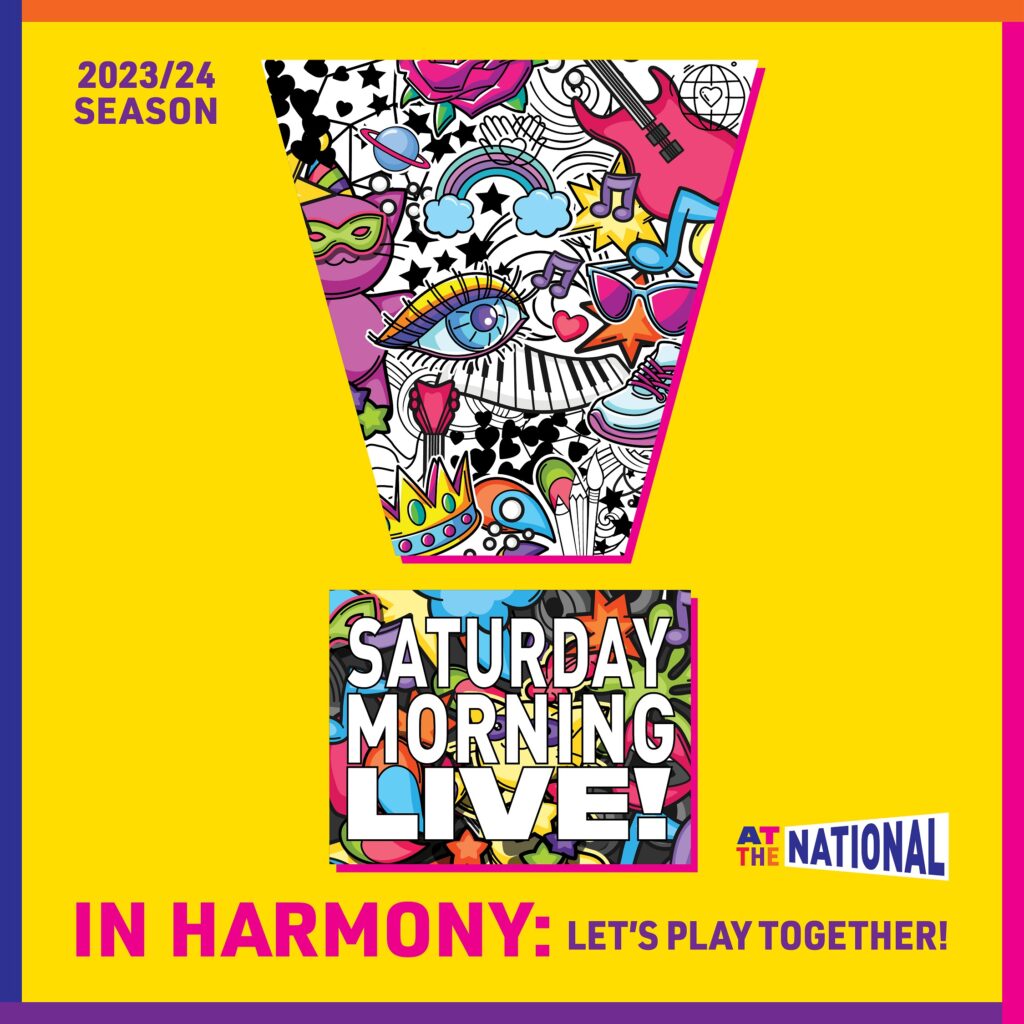 This year's theme, In Harmony: Let's Play Together!, celebrates all the things that unite us. You know what's neat? We're all different, and yet we all have things in common! Throughout this season of Saturday Morning Live!, we're celebrating our connections in dynamic, dramatic, and downright silly ways. Join us as we embrace what makes us unique and what brings us together. Check out our Fall 2023 offerings below, and keep an eye on our AllEvents page for your opportunity to register.
2023/24 SEASON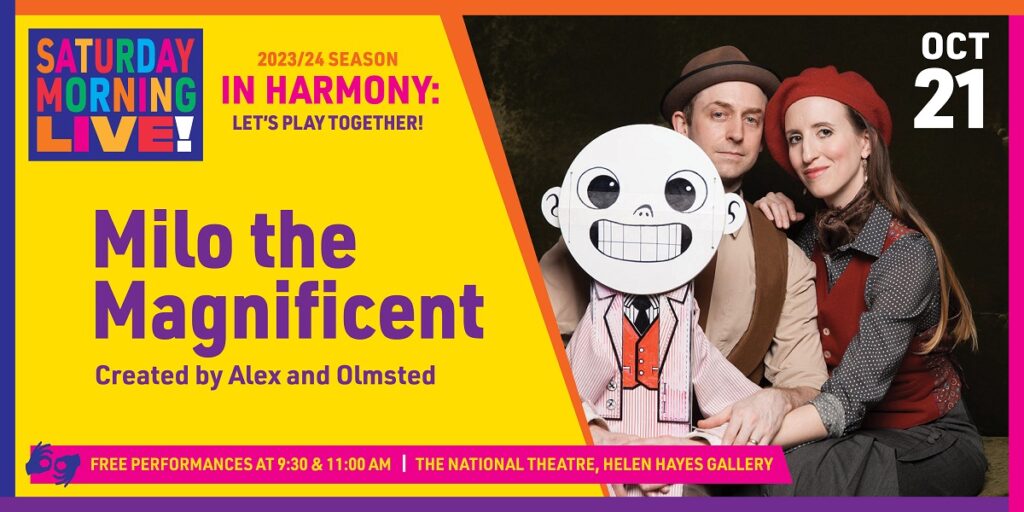 Alex and Olmsted's Jim Henson Foundation grant awarded Milo the Magnificent® is a highly engaging puppet show about an aspiring magician. This wordless comedy inspired by turn of the century vaudeville entertainers is as highly physical as it is charming. Using stunningly innovative puppetry Milo presents a variety of magic tricks which don't always go as planned. Milo the Magnificent ran Saturday, October 21st at 9:30am and 11am. You can learn more about Alex and Olmsted by visiting their website.
---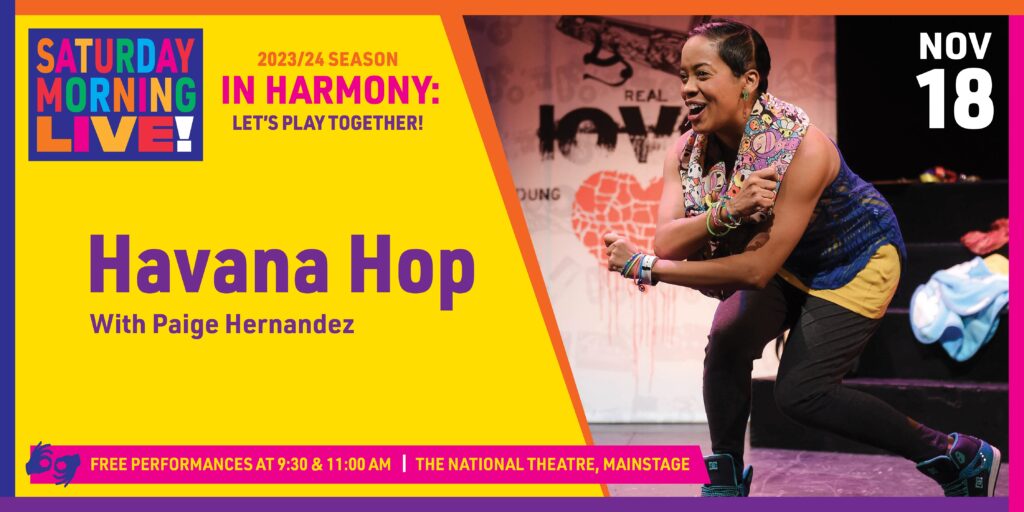 In this hip-hop theater arts workshop, Paige presents excerpts from her original work, Havana Hop, based on her experience as a performer with African American and Latina roots. Her program motivates us to be creative and unique, using our heritage and family values as inspiration. Learn the basics of hip hop, salsa, and partner dance with adults and children together! Featuring music from Nick "Nick tha 1da" Hernandez. Havana Hop runs Saturday, November 18th at 9:30am and 11am. You can learn more about Paige by visiting her website.
---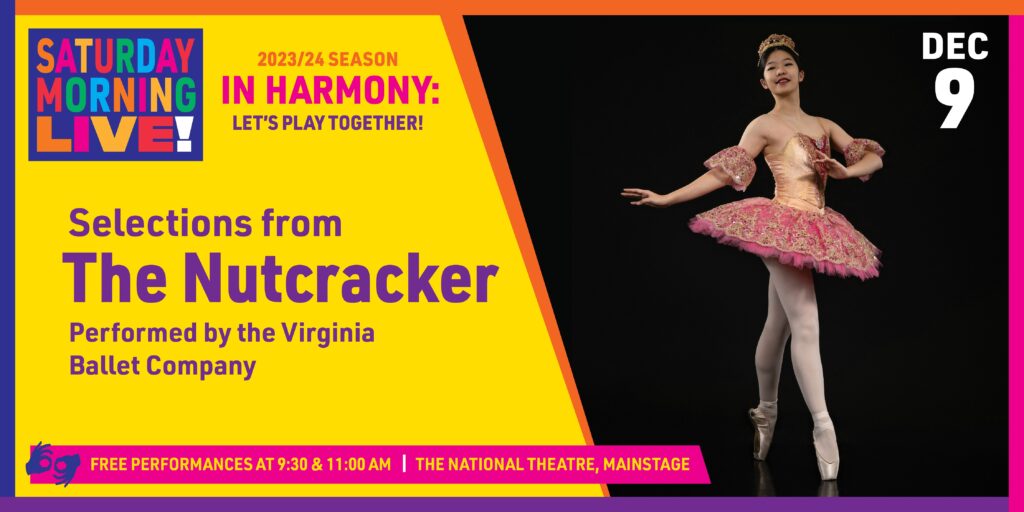 Enjoy the opulent festivities of Clara's party as she and her guests encounter wondrous surprises while dancing the night away to merry melodies. You'll be spellbound as she befriends a Nutcracker who comes to life just in time to do battle with the Mouse King and his mischievous band of mice. Travel along with Clara through a moonlit snowy forest filled with dancing snowflakes to the Land of Sweets where the Sugar Plum Fairy reigns over delightful dances from around the world. You'll have visions of sugarplums long after the final curtain falls. Catch the Virginia Ballet Company at The National Theatre on Saturday, December 9th at 9:30am and 11am. You can learn more about the company by visiting their website.
---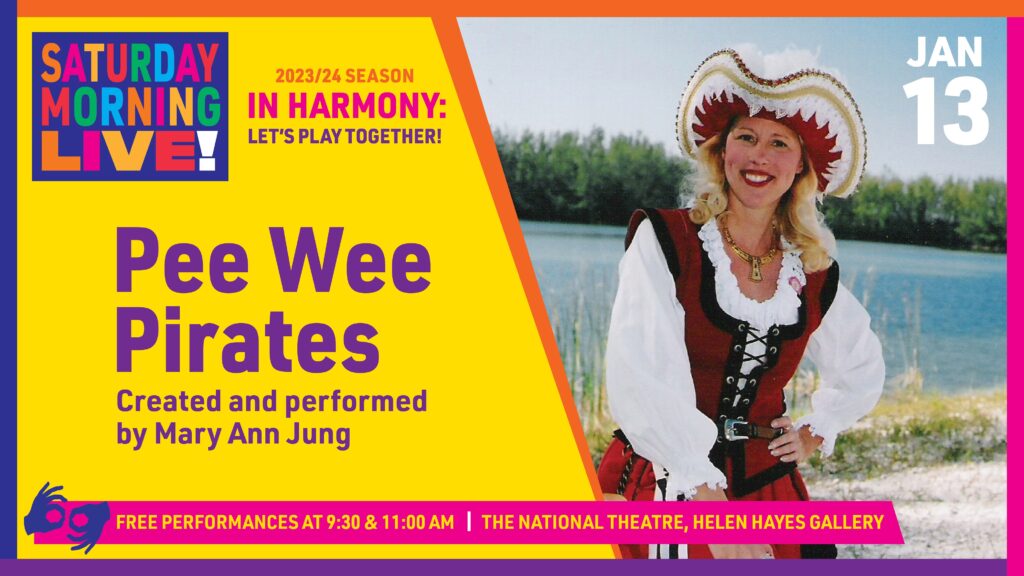 Ahoy there maties! Set sail for adventure with Grace O'Malley, the Pirate Queen of Ireland. Learn what exploration was really like with Captain O'Malley, an amazing female commander in the 1500s. On this rollicking voyage, all hands on deck will move! No landlubbers allowed. It's a fun workout for brains and bodies alike! Set sail with Captain O'Malley on Saturday, January 13th at 9:30am and 11am. Visit our AllEvents page to register. You can learn more about Mary Ann Jung by visited her website.
---
This story is about a young African-American girl named Michelle struggling to accept her natural beauty. In the end, nature and animals remind her that she is beautiful the way she is and to embrace herself. Children will participate in an interactive drama based on this story of self-acceptance and embracing imperfections. Join Visionaries of the Creative Arts (VOCA) on Saturday, February 10th at 9:30am and 11am. You can learn more about VOCA by visiting their website.
---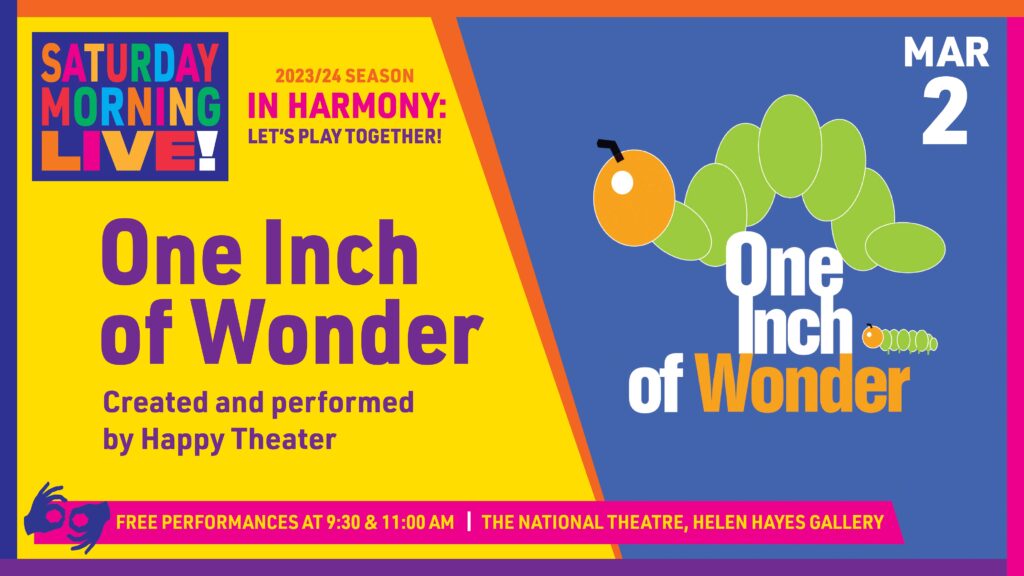 An inchworm lives inside a poet's typewriter. When the typewriter suddenly goes quiet, the inchworm must team up with the audience to reignite the poet's imagination! In this interactive show by an award-winning duo, inspiration really can be found in the little things. Discover the wonder on Saturday, March 2nd at 9:30am and 11am. You can learn more about Happy Theater by visiting their website.
---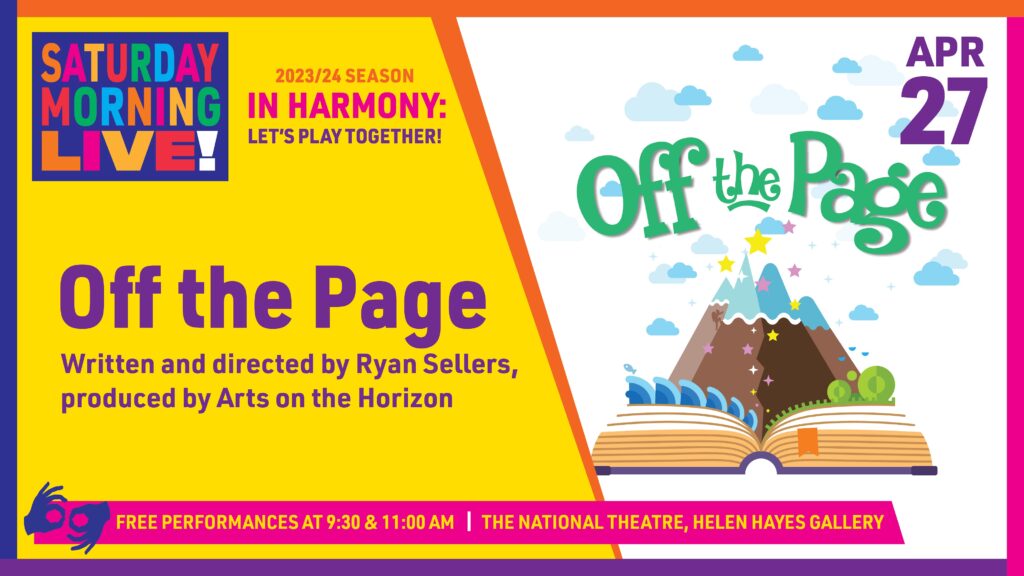 The magic of books can transport us to new worlds; illustrations and entire adventures can lift right off the page. When an imaginative young child dives into a book, the stories come to life around them. Through dance, music, puppetry, and vibrant imagery, this world premiere production will use an immersive design to literally unfold around the audience. Watch a new world come to life right before your eyes! Jump off the page on Saturday, April 27th at 9am and 11:30am. You can learn more about Arts On the Horizon by visiting their website.
---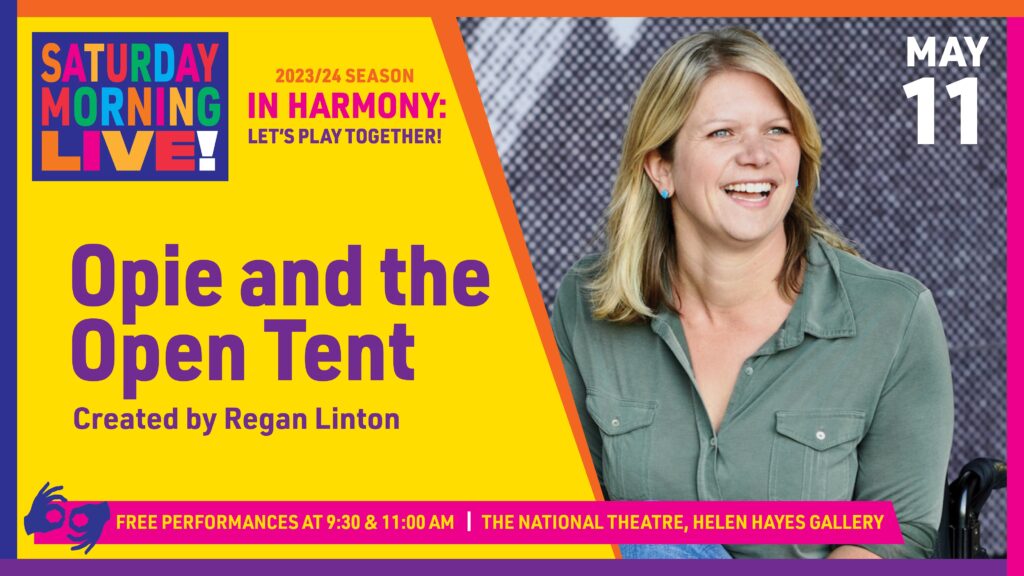 Opie is independent and has a cool tent, but she feels lonely. When she puts up a tent next to her own, she meets different friends who teach her interesting things. Until one day someone perplexing—a Closed Person—arrives, and Opie must find a way to open them up. Step into our open tent on Saturday, May 11th at 9:30am and 11am. You can learn more about Regan Linton by visiting her website.
---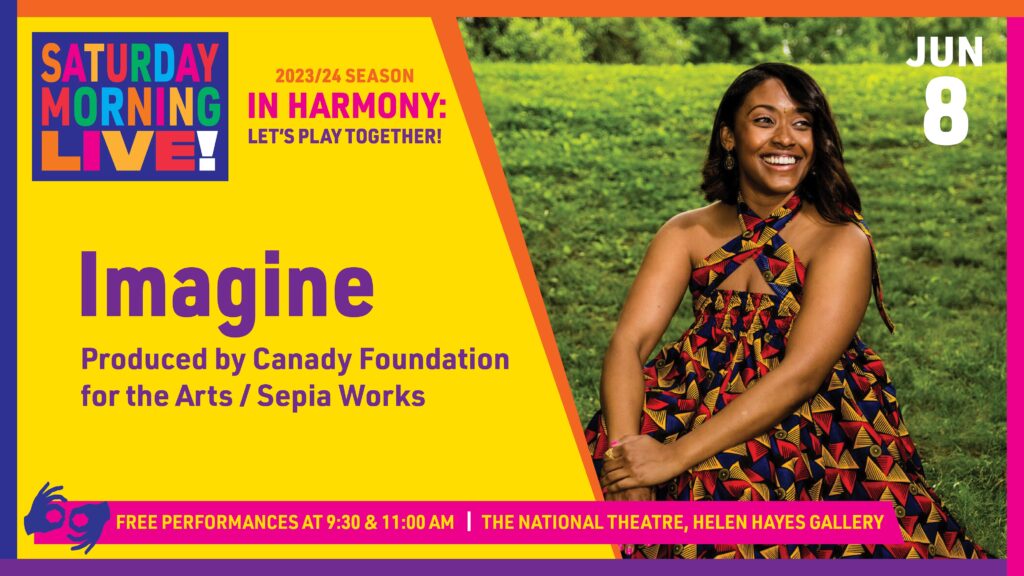 "Imagine" is a delightful and enchanting story that takes audiences on a whimsical journey through the power of a child's imagination. The story follows the adventures of Savi, a spirited young girl with a boundless imagination, as she explores all the fantastic people, places, and things in her bedroom. Told through music and dance, Savi travels to far away lands while making new friends that teach her valuable lessons through the power of imagination. Join us on the journey Saturday, June 8th at 9:30am and 11am. You can learn more about the Canady Foundation for the Arts by visiting their website and Sepia Works by visiting their website.
Saturday Morning Live! is made possible thanks to The Jacqueline Badger Mars Next Generation Fund and the generosity of our Friends of The National Theatre.