The teens are back behind the scenes! The National Theatre Foundation was pleased to have hosted its first Teens Behind The Scenes event since the pandemic began. On March 23rd, students from Sitar Arts Center, Roosevelt S.T.A.Y, and other DC area schools came to enjoy the matinee production of Rent. For some, it was their first time ever seeing a Broadway show. For others, they had the opportunity to share their experiences of Rent with their parents, 26 years after the show originally premiered on Broadway.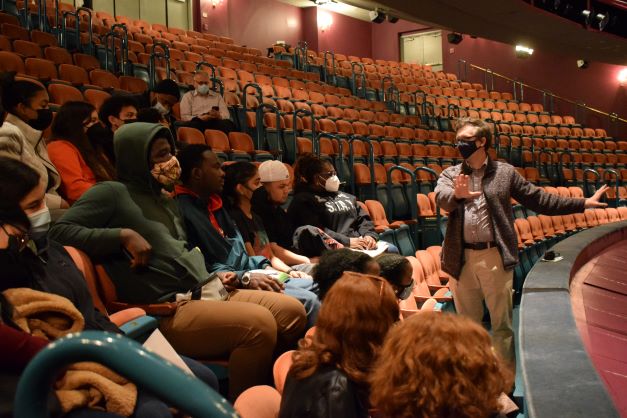 Dramaturg Jared Strange, led the students in a post-show talkback. Jared asked the students to imagine what the lives of the characters in Rent might look like now, in 2022. The social and political climate is different, but it is easy to draw parallels between what the characters faced in 1996 and present-day social justice movements. How might the group of artists and activists in the cast have responded to the burst of the dot com bubble, the terrorist attacks of 9/11, the war in Iraq and Afghanistan, the election of Barrack Obama, the 2008 recession, the murder of George Floyd, and the Covid-19 Pandemic? Would Maureen still be doing performance art? Do the students think Roger continued to pursue a career in music? Did the cast of characters ever make it to Santa Fe?
Students were divided on whether or not Maureen and Joanne's love would stand the test of time, they were pretty sure Mimi and Roger's romance was likely short-lived, but they were hopeful that each character would find stability and success. As far as Mark is concerned, the students predicted he would become a famous documentary film maker with critically acclaimed films premiering on Netflix, and Collins, with his mind for numbers, would be minding the books at a non-profit dedicated to helping those who can't afford their medical bills.
The National Theatre Foundation was pleased to be able to introduce a young audience to what is arguably one of musical theatre's most time-honored shows. For more context about AIDS activism and its intersections with theatre and performance art, Tick Tick Boom (Jonathan Larsen's musical that preceded Rent), and the legacy of Rent, check out the study guide created by Jared Strange here.
Students will be back at the theatre on April 16th for Come From Away! Learn more about upcoming Teens Behind The Scenes events here.