The 1996 hit musical Rent, written by Jonathan Larson, was a landmark show that brought the stories of queer young people during the AIDS epidemic to the stage, and to the attention of the nation, when it first debuted on Broadway. The iconic show celebrated its 25th anniversary in 2021 and the touring production has come through The National Theatre on numerous occasions. Most recently, students from The National's Teens Behind the Scenes program attended a production of Rent at the Theatre on March 23rd.
Dramaturg Jared Strange produced a study guide for the students that provided background information on the show and encouraged them to think about its impact in the context of today's social and political climate. In honor of Pride Month, we are sharing the following excerpt from the study guide in order to highlight the artists and activists that were instrumental in bringing public attention to the AIDS epidemic.
"1985 was a pivotal period in the history of AIDS-related art and activism. Two plays debuted in New York that year which brought the subject to increased public and critical attention: William Hoffman's As Is and Larry Kramer's The Normal Heart. As Is tells the story of Rich, a man dying of AIDS, who struggles to find a proper support system. Despite his challenges, Rich finds romance again with his former lover, showing it was still possible for gay men to fulfill their desires after an AIDS diagnosis. The Normal Heart, meanwhile, follows Ned Weeks, a writer, based on Kramer, who establishes an advocacy organization to raise the alarm over a mysterious disease killing gay men. While often criticized for not being a particularly well-crafted work of art, Kramer's direct style played a major role in raising the profile of the fight against AIDS. These very different plays, both of which inspired their fair share of acclaim and controversy, are just two examples of how theatre was used to assert the humanity of gay men struggling with AIDS and communicate the dangers the disease presented.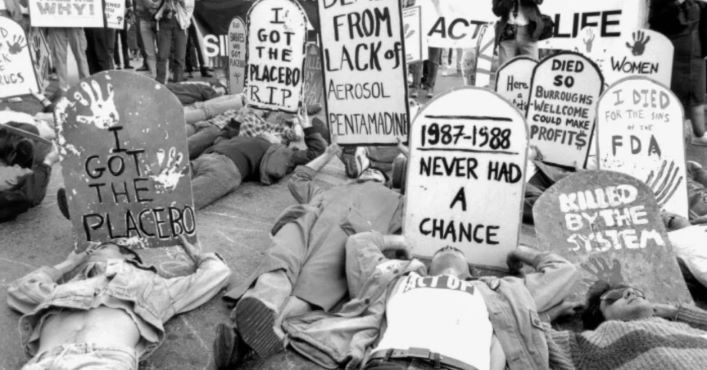 While As Is and The Normal Heart brought AIDS closer to the mainstream, vital, sometimes provocative work was still being done on the fringes and the frontlines. In 1987, the AIDS Coalition to Unleash Power (ACT UP), arguably the most significant political voice in AIDS activism, appeared on the scene. ACT UP was a diverse coalition of activists, artists, and thinkers that adopted radical methods in their public demonstrations. A list of their most (in)famous protests might include wrapping the home of North Carolina senator Jesse Helms in a giant yellow condom, staging a "die-in" at the Food and Drug administration building, and dumping the ashes of their deceased friends on the White House lawn.
While many members of ACT UP were committed to these demonstrations, some devoted their attention to the so-called "Science Club," a group that sought to leverage expertise to create change in the medical system." Meanwhile, theatre artists were bringing more diverse stories to audiences around the country. Performance artists such as the members of Pomos Afro Homos (Eric Gupton, Brian Freeman, and Djola Bernard) drew from postmodern aesthetics to tell innovative stories drawn from Black gay life. Writer-activists such as Luis Alfaro created art and organized protests to mobilize Latinx communities and combat stigma against queer Latinx people. Santa Monica's Sodomy Players, meanwhile, earned laughs for their edgy, campy show AIDS! The Musical! (1991), demonstrating that comedy and satire could tackle harsh realities and stimulate political action."
To learn more about the history of Rent, read the full study guide by clicking the button below: