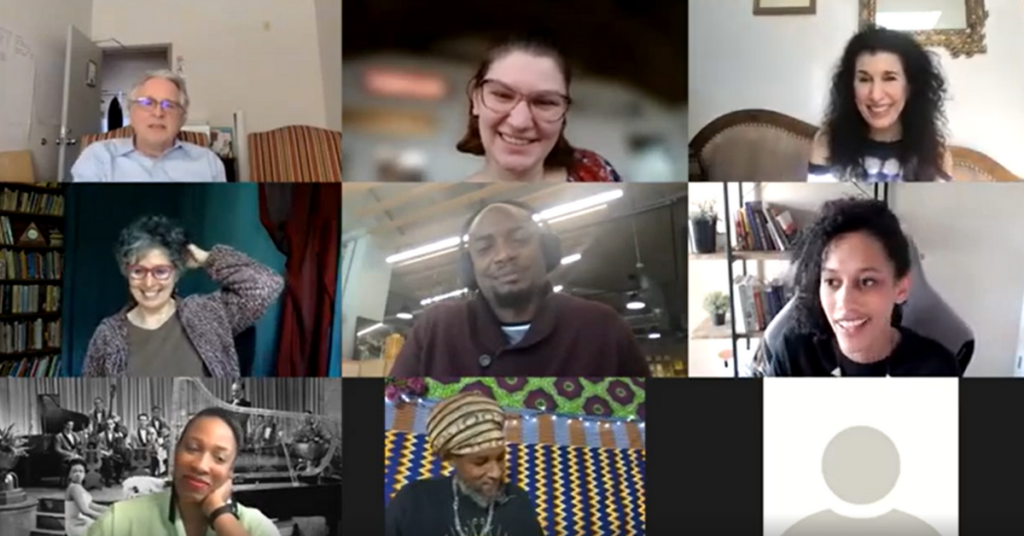 On March 8th, 2022 The National Theatre Foundation Community Stage Connections (CSC) artists Noa Baum, Lisa Jan Sherman, Baba Ras D, Lori Pitts, and Devin Smith attended the second annual CSC artist convening on Zoom. This meeting of the minds was an opportunity for artists to check in with one another, reflect on lessons learned during the pandemic, and look towards the future of the Community Stage Connections program.
Artists shared both excitement and fear about returning to in person performances. They commented on the value of the performing arts as avenues for connection, especially for populations such as seniors who have been facing increased isolation due to the pandemic. Artists shared stories of frustration and stories of hope.
Whether they do it through music, movement, acting, or improvisation, all of the CSC artists are storytellers in their own right. They connect community members with the present moment, and cultivate the opportunity for artistic exchange.
Storyteller Noa Baum reflected upon her virtual teaching experiences saying, "It's been a lifesaver for me to stay connected in that way," and thanked The National Theatre's commitment to continuing the CSC program because, "You're serving the communities that really need it, where it really makes a difference."
Improvisor Lisa Jan Sherman expressed her desire to gather with students once again and to be able to take masks off so they can communicate with one another more fully. She described her new character for younger students, Fern Fiddlehead who, "creates stories on the spot [and] gives kids a chance to work with other children [to practice] their social skills."
Teaching Artist Baba Ras D said about his students, "I am inspired because they (his students) are my teachers and as my teachers they give me a chance to live on purpose and to be of service… [the CSC program] allowed me and the community to once again be able to serve the family of humanity and to remind us all that we are all together."
Lori Pitts and Devin Smith, our two newest CSC artists, described their project ANCRD Voices. Their curriculum combines techniques from Theatre of the Oppressed and creative journaling practices incorporating socio-emotional learning to help students learn to advocate for things they care about.
As we reflect on the state of the world two years into the COVID-19 pandemic, we'd like to thank our Community Stage Connections artists for their commitment to their craft, their resilience in the face of constant change, and their courage in sharing their stories with one another and the world.