The National Theatre Foundation has hired two new dramaturgs to work with students in the Teens Behind the Scenes program. The dramaturgs research and write a study guide for each production, and lead students in a talkback following the performance. Get to know Jordan Ealey by reading their responses to our interview below!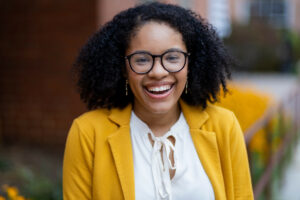 Name: Jordan Ealey
Pronouns: They/She
How did you come to be a dramaturg? When I was in college, I majored in Theatre and English. During my senior year, one of my professors noticed my interest in research, study, and creation of theatre and noted that I might be interested in something called dramaturgy. After falling down a rabbit hole of research about what this might be, I decided I wanted to pursue this path. This brought me to the University of Maryland to study with Faedra Chatard Carpenter, who eventually became my mentor and advisor. While at UMD, I got involved as a dramaturg on mostly dance projects and eventually got into theatre. The rest, as they say, is history!
Which show are you most excited about this season? This is such a wonderful season—how could I choose! But seriously, I am extremely excited for Chicago. It's the first musical I ever saw on Broadway, after an obsession with the film version, and it has held a special place in my heart ever since. I also came into the performing arts as a dancer, so the musical's focus on dance (the legendary Bob Fosse choreography alone!) resonates with me. It's also just so funny and irreverent and one of my favorite musicals of all time.
What do you hope students take away from the Teens Behind the Scenes program? I want students to understand the diversity of career paths they can take in the arts and to continue to stress the importance of the arts. I also want students to walk away knowing that musical theatre contains a wide range of stories; I want them to feel represented through this genre but to also get to know stories about people who are different than they are.