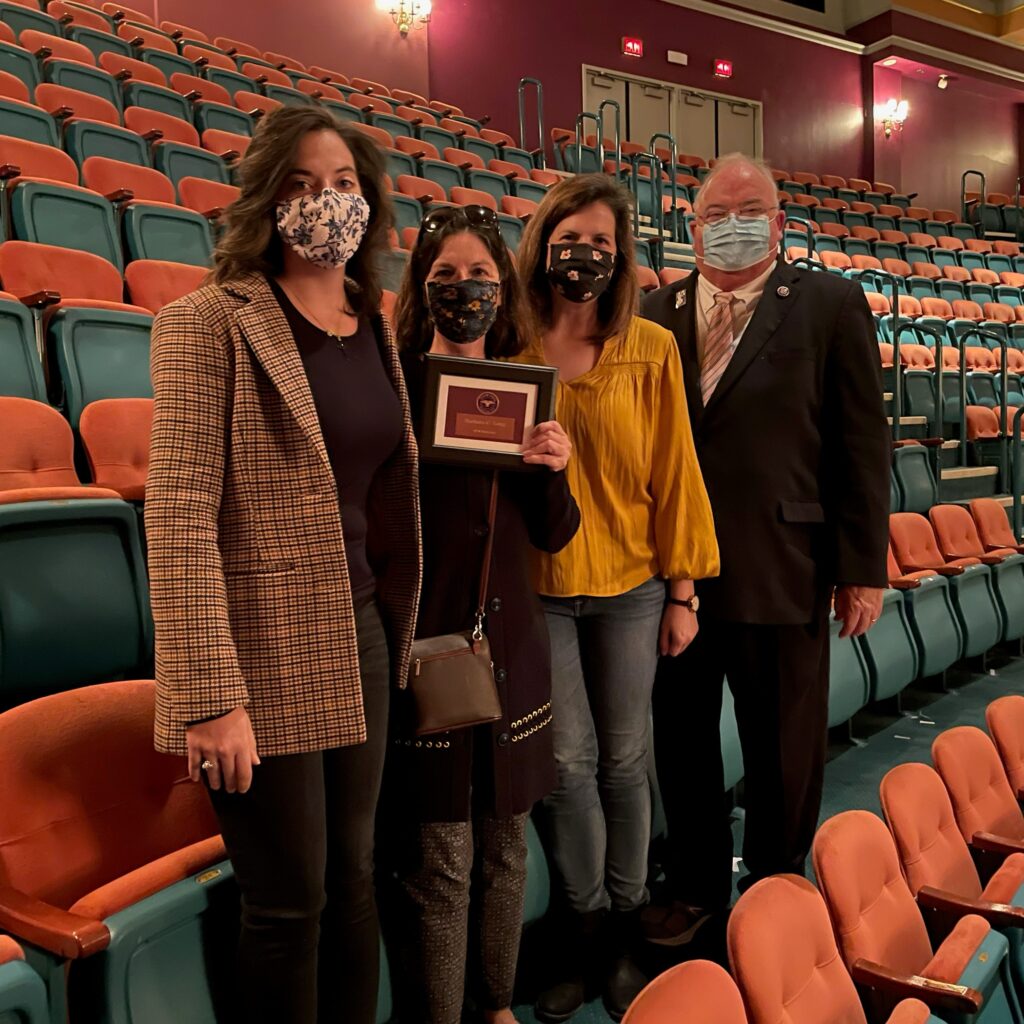 The National Theatre has kept our family connected over time, distance, and even brought us all together for lifelong memories.
My sister, Kaleen, and I grew up in the Missouri Ozarks. Our mom, Barbara, had moved from Wyoming where she was a dancer and performer and sought out our local community theater. Our dad, Billy, played the lead in Cheaper By the Dozen, which made us naturals to appear as two of "the dozen". Our mom helped with costumes, backstage wrangling, and even dyed our hair red per the script. I had delicate toddler curls, so she gave me temporary hair dye that would wash out at night and have to be dyed again the next day.
Since that first tiny role at four years old, I was smitten by the theater. Our mom picked me up and dropped me off at every rehearsal, sat in the audience at every show, and found Stagedoor Manor in a magazine article which inspired me to attend the camp in high school.
As my sister and I pursued our careers, we left our performance days behind, but never our passion for the theater. While she attended Georgetown University for the start of her medical school career, she escaped to The National for study breaks. By the time I moved to Washington to work in communications, my sister had moved away, but I inherited her season tickets.
We formed so many special memories over the years we spent attending The National. Our mom made a special visit to Washington to see If/Then. I was always ecstatic to see shows that hosted their pre-Broadway run at The National including Beetlejuice and Mean Girls. I even had the absolute pleasure of attending performance as press to write reviews for BroadwayWorld.com.
Even when we couldn't be next to each other for a performance, our family took comfort in seeing the same touring casts. Often, shows that made a stop at The National had either just been or were just going to Juanita K. Hammons Hall in Springfield. We would call to talk about our favorite performers, scenes, or production elements. My family has been so grateful to remain a part of the performing arts community in Washington and be able to continue our tradition of seeing live theatre, even 1000 miles apart.
When our mom was nominated for the National Endowment for the Arts Board in 2018, we wanted to recognize her achievements, dedication, and passion for the performing arts. We have been so blessed in our life by her commitment to instilling in us a love of theater. In 2021, we secretly planned to gather in Washington and dedicate a seat in her honor. Thanks to the incredible staff at The National, we pulled off the surprise. She was overwhelmed and we were so proud to make her part of National Theatre history for many seasons to come.
Written by National Theatre patron, Kelle Long Rathe
Dedicate a Seat to a loved one today!