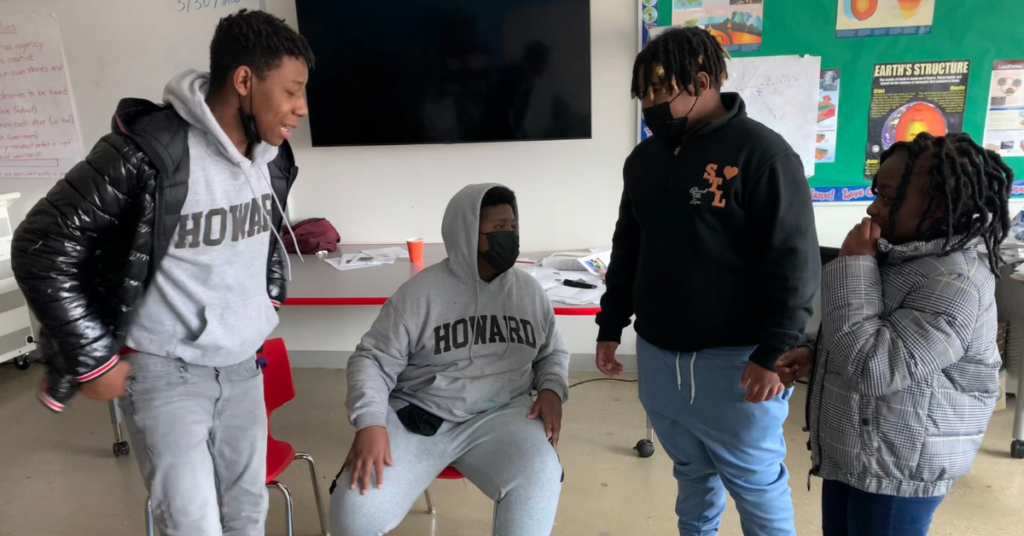 FOR IMMEDIATE RELEASE
April 1, 2022
The National Theatre Corrals its Largest Coalition Yet, Spotlighting Youth & Advocacy
Tackling social justice with local nonprofit, entrepreneur, university, and public middle school
WASHINGTON, D.C. — In a unique multi-stakeholder collaboration, DC middle-school students will premiere a performance entitled Through Our Eyes at The National Theatre on April 21, 2022 at 7PM in the Helen Hayes gallery. The National Theatre Foundation partnered with formerly incarcerated entrepreneur, Devin Smith, DC-based criminal justice advocacy nonprofit, Voices Unbarred, Georgetown University's A.S.K. program, and The Social Justice School to make this performance possible.
The performance represents the culmination of ANCRD Voices (pronounced "anchored voices"), a nine-week program that integrates community violence prevention and Theater of the Oppressed (T/O) techniques to facilitate social emotional learning and advocacy training. In this program students explore and create advocacy pieces related to their perspective on current social justice issues.
The National Theatre's Community Stage Connections (CSC) program has provided local communities which face barriers to accessing the arts with live performing arts experiences for over 30 years. In recent years, the program has shifted to a workshop model with an emphasis on creating art with, in addition to presenting it for, the communities served by the program. ANCRD Voices is the theatre's latest collaboration in service of this mission and this unique partnership will bring program participants to the Helen Hayes gallery to showcase their work.
Executive Director David Kitto said of the program, "The National Theatre Foundation is pleased to join forces with Ally Theater Company, Ship and Anchor LLC, The Georgetown After School Kids program, and The Social Justice School for ANCRD Voices. This multi-stakeholder workshop is allowing students to explore social justice issues and become voices of change. We are proud to host the workshop's culminating event of this critical programmatic initiative in the Helen Hayes Gallery here at The National on April 21, 2022."
Tickets to this performance are free, but limited. To register, https://www.eventbrite.com/e/ancrd-voices-final-performance-tickets-310146294917
A reception and talkback will follow the performance. Audience members must be vaccinated and wear masks in order to attend.
– – –
PRESS CONTACT:
Devin Smith
CEO at Ship and Anchor LLC
919-418-3511
About The National Theatre Foundation:
The National Theatre Foundation is a 501(c)(3) non-profit entity responsible for the continued operation and preservation of The National Theatre. Established in 1835, The National Theatre is the oldest continuously operating business on Pennsylvania Avenue and home to over 6,000 productions. The non-profit, founded in 1974, is charged with maintaining and strengthening the physical theatre, as well as engaging with the broader DC community through three free programs: Community Stage Connections, Saturday Morning Live! At The National, and Teens Behind the Scenes. The Board and staff serve as stewards in service to the goals of The National Theatre Foundation. For more information, please visit www.nationaltheatre.org.
About Ship and Anchor, LLC: Ship and Anchor is a social impact and management consulting firm in the business of inspiring organizations and people to transform into their best versions yet. Ship and Anchor helps drive value for businesses and organizations that market to or serve its four Impact Groups: 1) Current/Formerly Incarcerated, 2) BIPOC, 3) Students, 4) Entrepreneurs/Small Business.
About Voices Unbarred: Voices Unbarred centers the voices of people impacted by incarceration, and collaborates with theatre practitioners and policy organizations, to creatively reimagine the prison system and advocate for change. Through theatre and justice workshops, script writing, and interactive performances, participants affected by incarceration in the DC area are given a platform to share their stories, tackle complex issues, and lead the criminal justice reform movement.
---