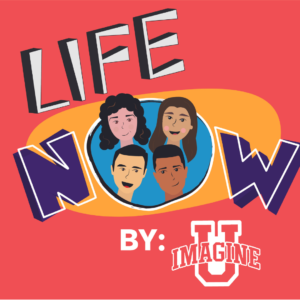 LIFE NOW by Imagine U features original content designed for young viewers and families to explore new ideas and simply have fun together! Created by a company of artists with roots in theatre for young audiences, each episode is a mix of music, movement, crafts, and storytelling. Imagine U is a popular performance series geared toward families with young children presented by Northwestern University's Virginia Wadsworth Wirtz Performing Arts Center. Productions spark imaginations, create fun, build community, and strengthen families. In 2020 as a result of the pandemic, Imagine U created Imagine U Storytime where Northwestern theater students, faculty, and alumni share weekly stories for young audiences on the Northwestern University Wirtz Center YouTube channel.
For the 2021 – 2022 SML! season, Northwestern will produce two LIFE NOW series. Learn more about the second series of episodes below.
April 2nd, 2022
When Alvin and Spike are worried about spending some time apart, the storytellers are there to share new stories about staying connected! Leo and Lily tackle the importance of names and a postcard craft gives us the ability to reach out to someone who is far away. In Connecting we learn to listen to ourselves, how to help friends in need, and ways to be a buddy to people who are feeling disconnected.
April, 16th 2022
In Gifting Alvin learns what gifts are and why we give them – with a special focus on the feelings that accompany giving and receiving gifts. A special guest introduces us to mosaics, we craft something new out of something we already have, and get to join the storytellers for their Friend Gift Exchange. We also discover ways to give back to the Earth. Find joy in the presence of everyday music and share your gifts with the world!

April, 30th 2022
In the final episode of the season, Alvin and friends explore types of Growing; growing up, growing talents, and growing new ideas. Make delicious treats with Ryan, learn to love your differences with Hannah, hear what Pablo hears, and watch Mia's creativity develop. We find that growing up comes with challenges, but with every new experience comes knowledge to help make us stronger, smarter, and ready to tackle life now.
Meet the Life Now Team!
Cameron Miya – Associate Music Director | Northwestern Class of 2022
Abbigail Vandersnick – Editor & Video Production | Northwestern Graduate, MFA in Documentary Media
Nihar Gagneja – Sound Mixer | Class of 2021 / Weinberg Class of 2021
Drew McComas – Music Producer | Bienen School of Music '22 | Bachelors of Music in Percussion Performance | Ad Hoc Major in Film Composition & Post-Production
Evan Zimmerman – Graphic Artist
Music Assistants – Oliver Paddock, Ted Deddens, Mat Coble, Wes D'Alelio, Sadie Fridley | all current students at Northwestern University
---
As part of The National Theatre Foundation's SML! season, these virtual series will premiere on Facebook and YouTube. Saturday Morning Live! At The National is made possible through the generosity of the J. Willard and Alice S. Marriott foundation and friends like you.