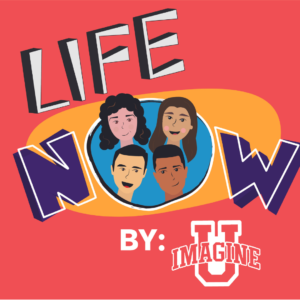 LIFE NOW by Imagine U features original content designed for young viewers and families to explore new ideas and simply have fun together! Created by a company of artists with roots in theatre for young audiences, each episode is a mix of music, movement, crafts, and storytelling. Imagine U is a popular performance series geared toward families with young children presented by Northwestern University's Virginia Wadsworth Wirtz Performing Arts Center. Productions spark imaginations, create fun, build community, and strengthen families. In 2020 as a result of the pandemic, Imagine U created Imagine U Storytime where Northwestern theater students, faculty, and alumni share weekly stories for young audiences on the Northwestern University Wirtz Center YouTube channel.
For the 2021 – 2022 SML! season, Northwestern will produce two LIFE NOW series. Learn more about each of the episodes below.
Oct 9, 2021
Welcome back! Alvin and our favorite four storytellers explore different ways to create a kinder tomorrow in Kindness. By keeping our heads up and looking for opportunities to secretly help others, we'll discover how to treat everything with respect – from the littlest of bugs to the tallest of trees. Learn how to craft a unique card and be proud of even the smallest of victories. Special guests share what they're grateful for and by the end of the episode, you'll come to find that kindness is contagious!
Oct, 23 2021
In Home we discover the importance of creating a space that is special and important to you. We'll get to craft a welcoming wreath together and sing a song about what home feels like.Chill out with the storytellers as they give you sneak peeks into their cool refrigerators and see Alvin build a custom surprise for sweet Spike! Our featured guests share what home means to them and Leo's best friend Lily helps him make his new room a little more familiar. We'll share some family stories and begin to understand that though the Earth is enormous and filled with many different places to live, there's one thing that they all have in common; home is where the heart is.

Nov 6, 2021
Put on your dancing shoes and go Stepping In new adventures with Life Now! Take a musical journey up a mountain and learn how shoes tell a story of where you've been and where you're headed. Our storytellers share their favorite footwear with us and a featured guest reveals his special shoes and how they help him create music. We'll build a treasure box together and see the small steps it takes to achieve big goals. Do the Shoe Switcheroo and put yourself in someone else's shoes to explore different experiences and views.
Meet the Life Now Team!
Cameron Miya – Associate Music Director | Northwestern Class of 2022
Abbigail Vandersnick – Editor & Video Production | Northwestern Graduate, MFA in Documentary Media
Nihar Gagneja – Sound Mixer | Class of 2021 / Weinberg Class of 2021
Drew McComas – Music Producer | Bienen School of Music '22 | Bachelors of Music in Percussion Performance | Ad Hoc Major in Film Composition & Post-Production
Evan Zimmerman – Graphic Artist
Music Assistants – Oliver Paddock, Ted Deddens, Mat Coble, Wes D'Alelio, Sadie Fridley | all current students at Northwestern University
As part of The National Theatre Foundation's SML! season, these virtual series will premiere on Facebook and YouTube. Saturday Morning Live! At The National is made possible through the generosity of the J. Willard and Alice S. Marriott foundation and friends like you.